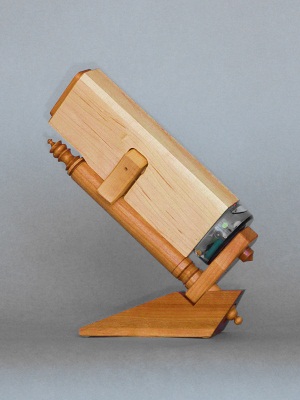 SQUEEZE ME is Steven Gray's first kaleidoscope in more than twenty years! The maple and cherry woods have a hand-rubbed, oil finish that bring out the grains of the wood and offer an incredibly soft feel. Steve's work is always innovative, and SQUEEZE ME is true to that legacy.
It has a 2-mirror, polyangular system with a smooth wooden toggle on the side of the barrel that is used to adjust the angle of the mirrors. Incredibly, the
mandala at its widest is 5 points, and with a simple squeeze the image tightens to many more points. The liquid cell holds a variety of lamp worked glass – pastels to primary colors – creating dynamic, vibrant images. On its stand, it measures 10 1/2″ high and 8″ deep.