One of a Kind Collaborative Sculpture by
Brian Gold
Eric Gold
Steve Gray
This sculpture is a collaborative piece in the finest sense of the term.  All three artists worked together from the very beginning to plan the piece and formulated the design details as a team during the complete construction phase.  This being the very first collaborative work of this scale for all three artists, it is a stunning testament to their integrity and cooperative nature.
Gray, Gold and Gold share a fascination of mechanical, optical and vintage gadgets and yet have incorporated these items into their respective works of art in very different manners of artistic expression.  These differences are combined and contrasted in "Searching the Horizon" to provide a unique and intriguing work of art.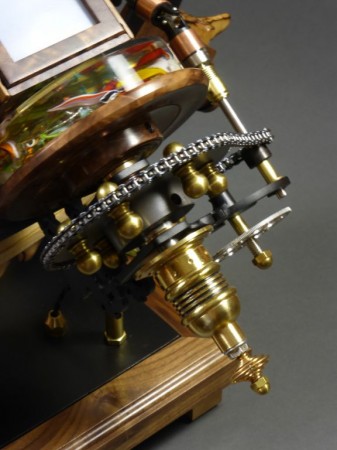 "Searching the Horizon" incorporates a large selection of media including recycled items such as gears, sprockets, optics and gauges, combined with steel, brass, copper, bronze, walnut crotch, spalted maple, curly maple, ebony, brier burl, blackwood, glass and mirror.  Various mechanical components are used to mechanically transfer motion with a right angle transfer through a universal joint linked to a chain sprocket drive that then turns the image cell.  In this manner, a simple turn of the crank will move the image.  The primary structure of the piece is a filigree steel armature which is used to hold all of the components together.
This kaleidoscope sculpture has a converging two mirror system which was used because it provides a wide view with three windows for images to be introduced and then there is a fourth side for viewing.  One window incorporates a liquid-filled image cell that includes lampworked  glass, gears and springs with a white diffuser.  Illumination for the images can be provided in three different manners.
There is internal LED lightning that can illuminate the images from the inside, or they can be illuminated via an external source of light, or a combination of internal and external lighting can be used together.
The optics in this piece are a combination of magnifiers and reducing lenses that can be arranged in various combinations.  The lenses are held in place with magnets so the viewer is able to easily rearrange them to produce many different effects.
20″ wide, 24″ tall, 15″ deep.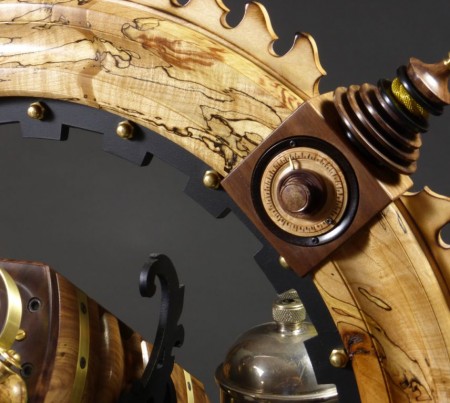 Contributing Artists:
Links to more information: