Searching the Horizon
One of a Kind Collaborative Sculpture by
Brian Gold
Eric Gold
& Steve Gray
This sculpture is truly a collaborative piece by three artists in that they all planned the piece together and worked out the design as a team.
Converging two mirror system
Image cell liquid filled acrylic with lampwork glass gears and springs with white diffuser.
Image can be front lit, back lit, or a combination of the two with internal LED lighting.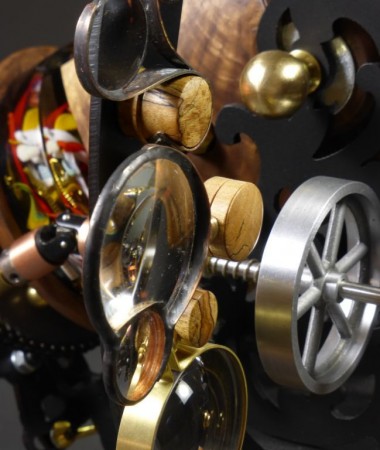 Steel, brass, copper, & bronze
Walnut, walnut crotch, spalted maple, curly maple, ebony, brier burl & blackwood.
Optics are a combination of magnifiers and reducing lenses and held in place with magnets
20″ wide, 24″ tall, 15″ deep.
Contributing artists:
Lori Riley
Sally Dryer
Available at Nellie Bly, Jerome Arizona.